Dan Glass: Breaking the Silence
28. únor 2022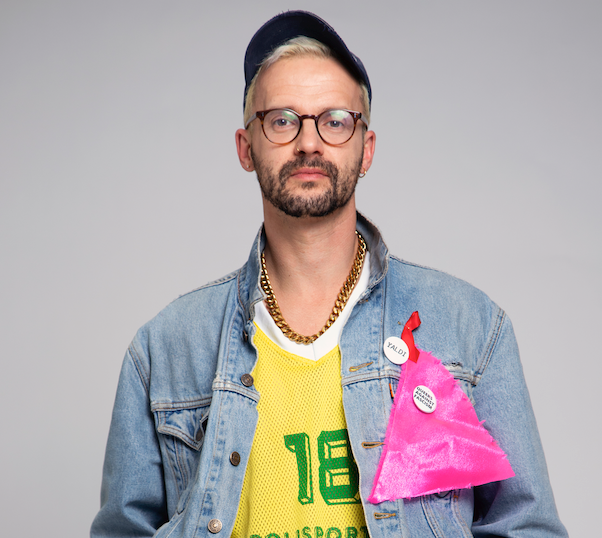 Dan Glass / Breaking the Silence / AIDS Coalition to Unleash Power - from 'United Queerdom: From the Legends of the Gay Liberation Front'
Last Summer marked my 15th HIVversary (living and - learning to - love again with HIV).
At the time of the bombshell of my HIV+ diagnosis I genuinely never thought I would be healthy, fall in love, have sex without five binbags strapped to my dick, have the confidence to speak about my situation, have a family (in ALL its forms) or find meaning and now fast-forward to today and Im on a noisy bus to Prague to speak on a platform at Pride (in front of fuck knows how many glorious people) invited by the 'AIDS Coalition to Unleash Power' (ACT UP) Prague Chapter.
After my diagnosis, stored in a box in my mind I kept, wrapped tightly, my 'HIV' but I knew the damage was being done. One stormy night the box was blown apart. Recently my heart had jumped out of its cage for a delicious guy I met called Thierry. I thought he was completely out of my league so when he showed interest I went to his flat with a well-prepared speech.
'Erm Thierry I just wanted to tell you something, erm, I can leave straight away no problem, I know the taxi number already' I said shaking.
'What's wrong Dan? Spit it out.'
'Er, er I don't really know how to say this, there's no really nice way, so er I'm HIV Positive' I whimpered.
'Don't be so fucking patronising, do you really think you're the first person with HIV I know?' he threw back.
Shocked, this was not the usual response I had had before.
'I don't need you to tell me about how I should respond to HIV, as a gay man, as someone who witnessed 'Section 28' and importantly as a human being on this planet – I should work it out for myself.'
'Oh, oh sorry.'
Then he warmed, turned to me and grinned.
'Now get your clothes off and get in my bed.'
Waking up a new human after a night of outrageously hot sex I didn't expect any more nice surprises until he fed me breakfast and reached on top of the shelves for five hours worth of films about HIV+ activism.
'Here we go, fasten up' he winked.
'Learn your queerstory - remember 'Aids Coalition To Unleash Power - ACT UP! FIGHT BACK! FIGHT AIDS! Until there is healthcare for all' Thierry beamed, and then sent me on my merry way.
Being part of ACT UP since we re-formed in London in 2014 we helped fight for, and won, PREP (pre-exposure prophylaxis) - medication taken to prevent HIV - to be available for all in the UK - and many other strategic successes against stigma and for mass empowerment within the movement. Today I feel so lucky to be part of this collective mission until HIV+ is no longer.
So keep loving and fighting out there lovers, ACT UP! FIGHT BACK! FIGHT AIDS! Until there is healthcare for all XXX
Czech translation available here (český překlad dostupný zde).

Biog
Dan Glass is an 'Aids Coalition to Unleash Power' (ACT UP) healthcare and human rights activist, performer, presenter and writer. Dan has been recognised as 'Activist of the Year' with the 'Sexual Freedom Awards' and was announced a 'BBC Greater Londoner' for founding 'Queer Tours of London - A Mince Through Time'. His book United Queerdom: From the Legends of the Gay Liberation Front to the Queers of Tomorrow was recognised as Observer book of the week June. Dan recently founded self-defence empowerment programme Bender Defenders and Queer Night Pride to confront rising hate crime. Contact Dan at www.theglassishalffull.co.uk and at alright(at)theglassishalffull.co.uk - @danglassmincer/